Little Green Monster: Cancer Magic
February 1, 2020 #ReadYourWorld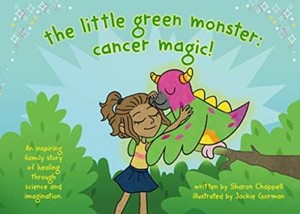 Little Green Monster: Cancer Magic! written by LGM director and breast cancer survivor, Sharon Chappell, Illustrated by Jackie Gorman.
UPDATE!! February 8, 2020
I received my review copy this week. After reading it last night and this morning I can absolutely say this is a must-read for anyone or family going through cancer. What was not presented in the YouTube video reading was this wonderful feelings page. Images are displayed with emotions from "excited" to "confused." That page alone is worth this book. How great to be able to have a child see the emotion they are feeling and then know that it is ok to have that feeling. Included is also an activity page with activities that can be done by kids alone or with grown-ups. In the end, I'm still thinking about that lovely bird on the author's shoulder as she read the story. I pulled out my own little green monster and shared reading with him today. It made us both feel very happy.
ORIGINAL REVIEW:
This was a surprise read for me. While I am still waiting for my review copy, I had an opportunity to watch the author read the book via a YouTube clip. The video was clear. I am looking forward to reading the book to myself when it arrives. Until then I can say that the topic, Cancer, is all too common for our children and this book really allows children – and parents – to find the good in a not so good situation.
I was reminded of my own childhood imaginary friend "Fred." He was my security, usually when I was alone. Like my Fred, the Little Green Monster becomes the catalyst for good things while allowing children to know that they are not alone.
#ReadYourWorld
______________________________________________________________________________
Chick and Brain – Smell My Foot
Written & Illustrated by Cece Bell
Super silly and fun humor in graphic novel format for early readers. The importance of general manners is the main theme and readers will enjoy the repetition as they read about a smelly foot! Readers will be pulling their shoes and socks off to replicate the actions of Chick and Brain. Hold your nose!
---
February 9, 2019
Lola Can't Leap by Ellen Leventhal
Ellen Leventhal's words and Noelle Shawa's illustrations blend well together for Lola Can't Sleep. Lola quickly realizes that she is not like the other little lambs. Her sticktoitiveness and determination help her find her special talent. Little ones will enjoy the alliteration and lyrical wordplay. Perfect for bedtime reading.
---
October 15, 2018
Written by Jessie Oliveros and illustrated by Dana Wulfekotte: the remember balloons
If your family has been affected by Alzheimer's Disease and you have had to explain to your son why Grandpa can't remember his name or explain to your daughter why Grandma keeps telling her the same story,
you will appreciate and love the remembering balloons.
The author has crafted a beautiful story about memories and the loss of memories that can happen as a result of Alzheimer's Disease. Balloons represent memories as they float away. Today, it is estimated that there are 5 million Americans affected with Alzheimer's and that number is expected to rise to 16 million by 2050.
Care for those with the disease can be difficult and this book reminds us that the disease affects more than the individual. It affects the whole family and especially the youngest among us. If your family is affected by Alzheimer's Disease, I recommend you read this book – even if you don't have young children.
---
March 26, 2017
I just finished reading several picture books I'd taken out of the library this week. This is one of my favorites from the stack.
This book is out of control! – By Richard Byrne
Quoting from the back cover: "This book is having an EMERGENCY and it's up to you to calm things down."
What a fun book this is…author, Richard Byrne immediately engages the reader to interact from the very beginning calling attention to the knock at the door, from the next page.
Two friends and a dog plan a day of play when a remote control for a toy fire engine goes haywire. Ben and Bella work to make things right but each press on the remote control makes things worse and worse. Realizing they need help, they ask the readers to help.